+

Eric Seldon
President and CEO
Eric Seldon is Senior Vice President of Business Services at Aflac and serves as President and CEO of Communicorp. Eric joined Aflac in 1999 as an Operations Manager in Client Services. He then went on to hold several leadership positions throughout Aflac Business Services before gaining his current executive leadership role within the organization.

Having a passion for minority business development, Eric has earned numerous accolades for his supplier diversity efforts. He is a long standing member of the Georgia Minority Supplier Development Council (GMSDC), who honored Eric with the "Executive of the Year" award in 2008 for his ability to consistently demonstrate support for minority-business development. Furthermore, in 2012 Eric was selected as one of Atlanta Tribune's "Men of the Year" in acknowledgment of his strong business acumen, community involvement and advocacy efforts in supplier diversity.

Eric earned a Bachelor's degree in Business Administration from Madison University and has more than 28 years of leadership experience, including more than 18 years with Aflac. Prior to joining Aflac, he was Vice President of Card Services at Total System Services Inc.
+

Mike Thomas
Vice President
Mike Thomas is Vice President of Operations for Communicorp and Second Vice President of Support Services for Aflac. Mike oversees the strategic direction of Communicorp's Operations team and Aflac's Support Services team, which consists of all print, mail, fulfillment and sales print operations.

Mike joined Aflac in 1999 as a Policyholder Specialist in Client Services. He went on to hold several leadership positions within the company and has been instrumental in the successful implementation of many technology solutions and workflow enhancements, improving the overall quality and efficiency of these operations.

Mike has more than 15 years of leadership and professional experience and holds a Bachelor's degree in Computer Science from Columbus State University.
+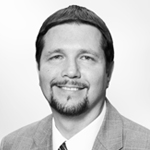 Tony Mixon
Director, Shared Services
Tony Mixon is the Director of Shared Services at Aflac and Communicorp. Tony oversees sales, marketing, production, quality, fulfillment, the Duck Gear customer service team and safety and quality services. He has served more than 30 years in the industry, with 25 years serving in leadership roles, with the last 14 years serving at the executive level.

Tony is a third-generation printer who got an early start in the industry when he fell in love with printing during his freshman year in high school. Before joining the Aflac/Communicorp leadership team in 2015, Tony spent 28 years with Hallmark Cards. At Hallmark, he spent the first five years as an operator and the remaining 23 years leading multiple managers and sectors of the business.

Tony is known for building world-class systems and teams that have been recognized for their results. His experience ranges from servant leadership, production, problem solving, lean manufacturing, quality systems, human resources, organizational management, change management, development of leaders, coaching, capacity planning, supply chain management, scheduling/warehouse/inventory control, performance management, facilities, maintenance, safety/OSHA, security, customer service and sales.

He received his Bachelor's degree in Organizational Management from Ashford University.
+

Gary Robinette
Director, Communicorp Technology
Gary Robinette is Director of Communicorp Technology. In 2008, after exciting IT opportunities in the telecommunications, pharmaceutical and textile industries, Gary joined Aflac as an IT professional, rising to leadership at Communicorp in 2014.

Gary's strategic and customer focus has guided the Communicorp IT team with an eye for the future, while delivering new initiatives and prompt support to customers guided by the mantra of "Partner and Deliver".