When thinking about growing your business or how to make the most impact, take the time to ask, "What more can we do?" At Communicorp, we strategically ask the same question with each marketing initiative we take on. It's our way of making sure that we maximize our cutting-edge technology and award-winning creative design services to enhance and promote your brand in a unique way. It's also how we became a single source provider for all of your marketing needs. It's incredible to think about because thirty years ago we started as an internal print facility on the first floor of the original two-story Aflac building. In the early days, we were an offset printing service, but after listening to our clients, we realized they needed so much more, so we adjusted our range of services to meet their demands. Here we are decades later, and we firmly believe that our commitment to unique marketing solutions, high-quality products, excellent customer service and revenue-driving marketing strategies deliver reliable results for our clients.
Now, without further ado, here are five things you might want to consider when it comes to answering that simple, but fundamental question, "What more can we do?"
#1 Maximize Your Digital Printing Solutions
Every business depends on reliable printing. That's why it's essential to fully understand all of the capabilities of your digital print partner. As G7 certified printers, we are experts in color and consistency. We run with a fleet of HP Indigo and Heidelberg printers—and we get the job done quickly. Flexibility matters and you'll want to make sure your print partner provides a variety of solutions. For example, we offer wide format printing on a multitude of materials. We also run with a fully equipped bindery and finishing department that offers die cutting, straight line gluing/folding, saddle stitching and trimming. We'll also archive digital files in a library, so printing and colors stay consistent over and over again. Maximizing your digital print solutions can help you better connect with your customers in tangible and meaningful ways.
#2 Reevaluate Your Fulfillment Needs
Having marketing materials available is necessary, but not every office has room to store all of them or the resources to ship and track inventory. Whether your fulfillment needs are packaging, assembly, or storage—we have it covered. We offer fast processing to our client's distribution schedule, and with the option of eCommerce storefronts, their employees can order what they need through a website hosted by Communicorp. We even manage inventory. It's as simple as that. You can grow your business faster by outsourcing fulfillment activities and redirecting that focus to your marketing and product development needs.
#3 Streamline Your Marketing Plan
Successful marketing campaigns require careful research, strategic planning and a detailed plan of execution. Strategic Marketing is a specialty and partnering with an experienced marketing solutions provider, like Communicorp, can be a game-changer when working to provide individualized campaigns that help your business stand out from the rest. We help companies thrive by offering everything from campaign strategy, graphic design and brand development to creating compelling digital and print content that will catch the eye of any target audience.
#4 Embrace Cutting-Edge Technology Solutions
If you're not embracing the power of marketing technology, then you're probably not connecting with your customers on the deepest level possible. At Communicorp, we use cutting-edge technology to bring collateral to life with our clickable print capabilities. We employ some of the most innovative talent to create beautiful, highly-converting websites and personalized e-commerce storefronts. We also securely store digital assets, eliminating worry about wasting precious time digging for high-res files or logos. Embracing marketing technology solutions offers efficient and scalable ways to connect with your customers.
#5 Get Creative With Your Merchandise Solutions
Staying top-of-mind with current and potential clients is vital for any business, especially when face time is limited at a trade show or special event. We specialize in desk-presence to keep your company top of mind after meeting potential clients. At the end of the day, it's all about making an emotional connection with your customers. We bring personalization to an array of useful items that are available at any budget. People like gifts. Your clients are no different and will appreciate the thoughtful touch of a personalized item.
We continuously think about how to go beyond what's expected and what brings value, surprise and results to our client's vision. A client might need a printed mailer. What we see is a printed mailer with a QR code that links readers directly to their website. Maybe a business is looking for new hire welcome kits; we see offering new employees their very own branded and customized Kudos Kit to make them feel like they're part of your team. We're always asking, "What more can we do?" Continue to ask yourself that same question and you, too, will discover strategic ways to further connect with your customers and ultimately grow your business.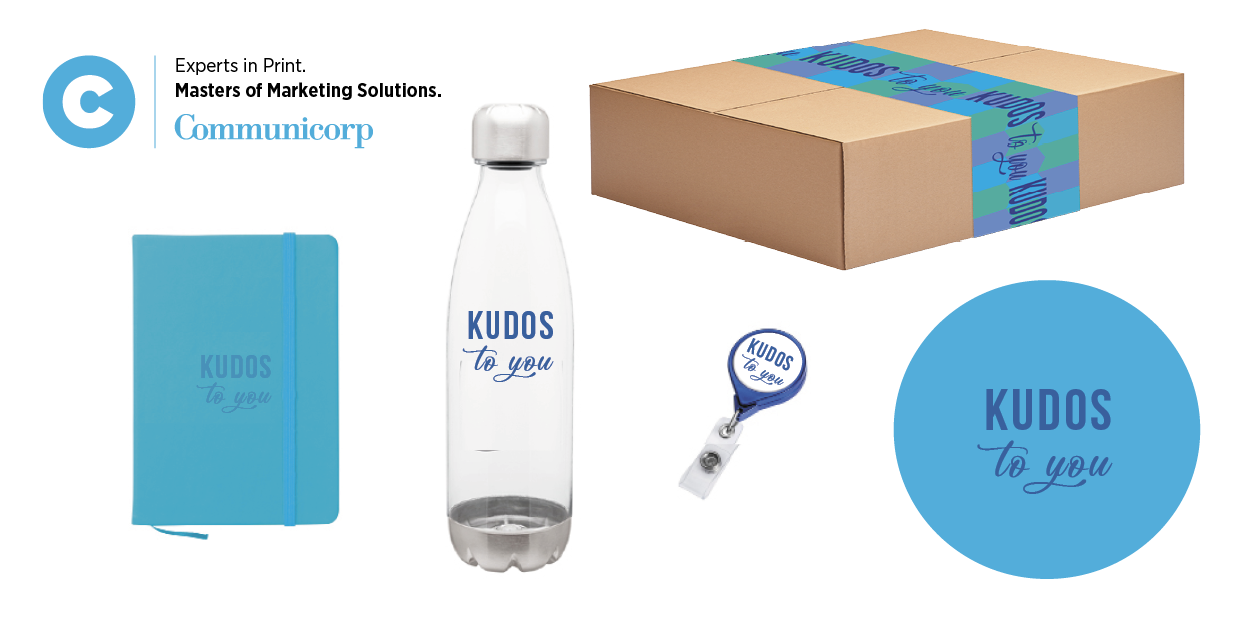 Here's are just a few ways we've helped our customers with their marketing needs. Feel free to contact us to discuss your next marketing campaign or any of the solutions above.
"It started with the message you and your team developed for us."
"[Communicorp's campaign] did what we needed to have happen…it put us on the map because of what Communicorp did."

"I cannot think of anything that didn't go right!"